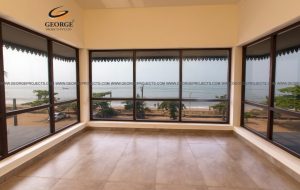 It's a long term investment in installing uPVC doors & windows. So, it's an important factor in choosing the right manufacturer or supplier who provides delightful services during purchasing decisions and as well as after-sales. Expertise in the uPVC industry must help you to choose and suggest the right product to install.
While selecting uPVC or PVC manufacturers, make sure that the manufacturer or supplier has a network of reliable suppliers across the country and have competence in different product categories
The company must have a good social reputation with respect to its service which includes:
Suggesting the best product for the customers.
Helping customers to find the right product as per their requirement.
Personalize designing of the products to meet the actual need of the customer.
Delivering the product in said time.
Providing product warranty/guarantee.
Ensure after-sales service.
Always available or providing needed suggestion to the customers.
We the "George Projects" are committed to providing everlasting services and bonds with our customers. We always look forward to keeping or services in first priority and works forward to provide some added features to the product as per the requirement of customers.
We understand the social responsibility towards the industry and people to maintain our credibility.
In case of any queries, feel free to contact us.